This project was a collaboration between myself, Charlotte Calvin, Madison Dobbs, and Daniel Piedra.
My roles included motion graphics, video, research, and concept design.
Stasher was founded in 2015 with the goal of creating a new framework for short-term luggage storage for travelers and tourists. They partner with local businesses to utilize the extra storage space the businesses already own to serve as "StashPoints" for users' luggage. Through a simple online booking process, users can store their items as long as needed, starting at just $6.They offer insurance of up to roughly $750 per item Stasher has over 1000 StashPoints in over 100 cities worldwide, primarily in Europe. They now aim to expand their business into the United States.
Our competitor research indicates Stasher is leading the industry in cost and number of storage locations. They would benefit by focusing on developing a more unique brand voice, expanding avenues for user engagement via a mobile app, and highlighting Stasher's launch into the US through social media advertising.
To build an interesting and relatable brand identity
and expand the technological aspects of Stasher to
aid in generating user engagement.
Providing luggage storage on the spot so you can experience your day bag-free
Solving the problem of traveling with stuff by providing secure and affordable luggage storage around every corner.
Stasher's brand voice is humorous and aims to speak to a younger audience using casual language commonly found on social media platforms. It is relatable and serves to humanize the company. The brand voice should never be condescending or seem like it is trying too hard.Stasher knows what they're doing and they have fun doing it.
Stasher's target audience is the millenial generation, ages 20–40, living in the US. They aim to appeal to those with an inner sense of adventure; people who are looking for new experiences and traveling spontaneously.
This tagline uses Stasher's casual brand voice to reflect the freedom found by traveling without the burden of luggage.
We chose to redesign the logo as we felt the original mark was too generic and didn't reflect the young, innovative personality of Stasher. The new logo is fresh and modern. It is well-suited for digital spaces, which is where Stasher primarily operates.
Icon system by Daniel Piedra
Icons are used as one of the primary visual languages for the brand. We wanted an icon style that was simple and easily recognizable, which uses bold, rounded lines to pair with the logo.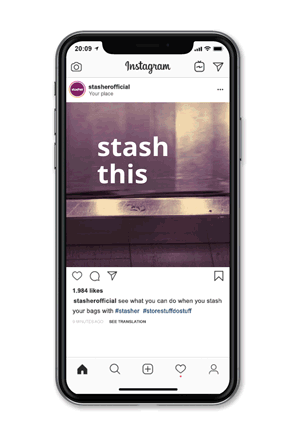 The campaign #StoreStuffDoStuff takes place primarily in digital spaces. Stasher utilizes Instagram and other social media to announce the campaign and provides an incentive for users to engage. If users share their images with
Stasher's social media handle and the hashtag, they are chanced to feature on Stasher's Instagram stories and in their posts. This allows Stasher to reach broader audiences directly through their users, and it increases foot traffic through Stasher's social media.
Video by me, Instagram feed and story by Madison Dobbs and Charlotte Calvin
Site masthead animated by me
App design by Charlotte Calvin
Stashpoint branding by Maddie Dobbs